Are You Looking for Foundation Repair in North East Texas?
Look no further, because we are your foundation repair specialist. When you want a solution to uneven floors, cracks in the walls and ceilings, and all your damaged foundations' problems, then you need the foundation repair experts. At Discount Foundation Repair, we provide residential foundation repair and home concrete leveling services to all of North East Texas from Fort Worth, Grapevine and Irving offices.
Discount Foundation Repair Specialists repairs slab foundations, as well as pier and beam structures. We can correct and prevent further foundation damage while keeping your home level and stable.
Concrete Leveling in North East Texas
If your home or business foundation isn't level, Discount Foundation Repair Specialist can level your property foundation if you have:
Sloping Floors
Cracks in Sheetrock Walls or Bricks
Separation of Joints
Sticky Doors Not Lining Up
Floor Cracks and Separations
Welcome to Discount Foundation Repair Specialist, a family owned business for over 30 years! Locally owned and operated by Bruce Talmadge, Discount Foundation Repair Specialists has been serving customers in North East Texas since 1984.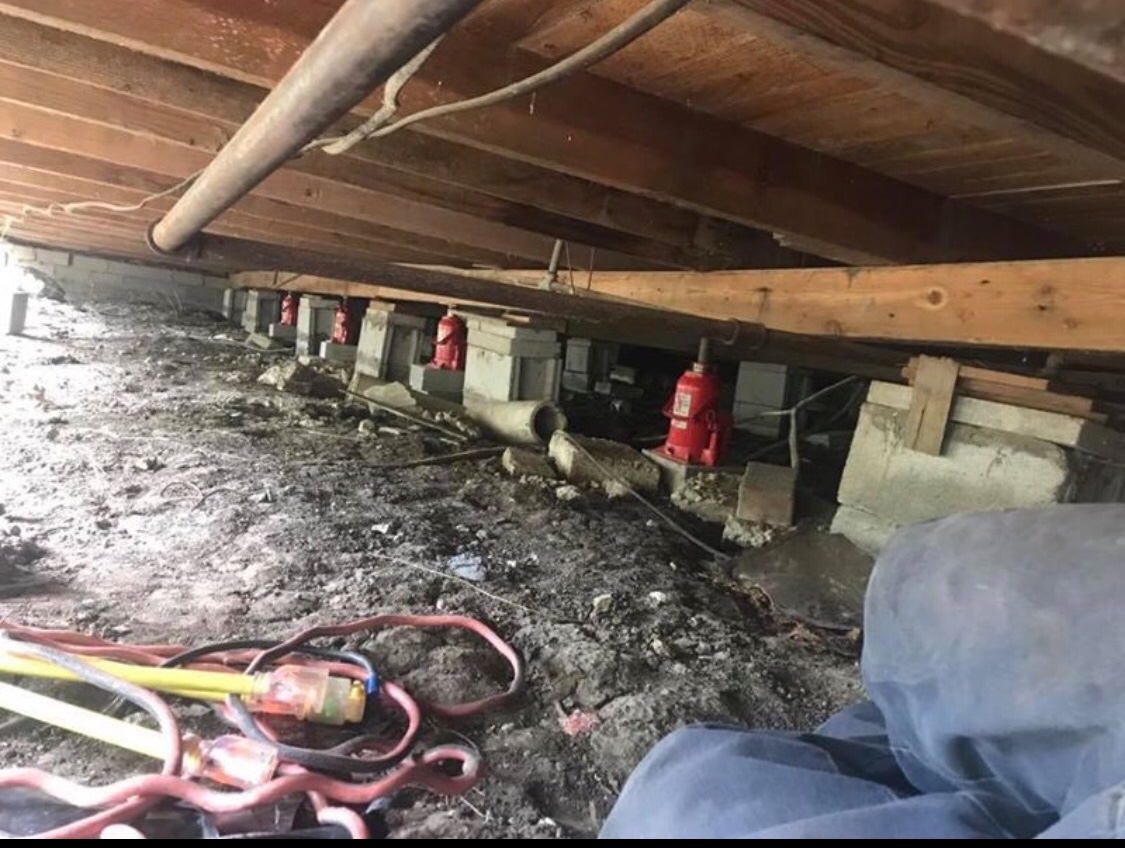 Our Foundation Repair Teams
Each of our professional and highly experienced foundation repair teams consists of trusted experts in repairing residential and commercial grade concrete slabs, and pier and beam foundations. We are always respectful of your time and quick to perform the best quality repairs to your 100% satisfaction.
Most repairs can be completed in 1-2 days.
Our Foundation Repair Services
Steel Pier System

Cable Lock
Pier Adjustments

Concrete Foundation Repair

Concrete Pier Repair
Concrete Pier Pads

Concrete Beam Repair
Drainage Repair & Correction

French Drains
Root Barriers

House Levelling
Raise Grade Beams
Home Perimeter Lifting
Some of the highlights included with our foundation repair services are:
Highly Skilled Professionals with Over 25 Years Experience
Using Latest State of the Art Digital Equipment to Measure Floor Elevations to Nearest .01 in.
Amazing Quality at Discount Prices
Fast & Friendly Service – See our Testimonials
100% Satisfaction Guaranteed
Call Now to Level Your Home or Business
Call us at (972) 740-2235 to schedule a free foundation repair consultation. We are your local foundation repair professionals and promise to be accurate, timely, and professional. Our structural design team will create a repair diagram plan and estimate the same day.
Fort Worth Foundation Repair
4500 Mercantile Plaza Drive
Ste. 300
Fort Worth, TX, 76148
Grapevine Foundation Repair
1701 Northwest Highway
Ste #100
Grapevine, TX 76051
Irving Foundation Repair
511 E John Carpenter Fwy, Ste 500
Irving, TX, 75062
Testimonials
Bruce help me with my house's foundation work. He was the prefect person for the job. He has great skills and experience with foundation related advice. I would give discount foundation repair ALL stars for their work and help. Great service!
We called and got quotes from multiple companies. Bruce was by far the most reasonable. They were able to start work within a week of the initial call and completed the job in two days. After the work was done the landscaping was cleaned up and looks better than it did before. Thank you Bruce, Micheal, and the crew that came out. Y'all did great work and I will recommend your company to anyone I know who needs foundation work.
I had my pier and beam foundation correct a few years back but recently noticed new problems. The experts from Discount Foundation Repair came out immediately, determined the problem (termite damage and other) and fixed other issues the first foundation company did not find nor address. Their prices are reasonable as well. Very neat, clean, tidy, polite, trustworthy, reliable, prompt, courteous, fair, and honest. I highly recommend them and if I ever need foundation work again, I will only call them. A big thank you to all the members of the Discount Foundation Repair team!!
Burce, Mike and their crew did a great job fixing our foundation issues and helped address cracks in my patio and driveway as well. They started the project very quickly and finished in time. They have good prices. It was very easy to work with Bruce on invoicing, pricing, timing and everything. They also performed a free inspection on my new house and confirmed there are no foundation issues. Now i can move ahead with the purchase of our new house without any concerns 🙂 Thank you Discount Foundation!
Bruce and His Team at Discount Foundation Repair Specialist are THE BEST foundation company out here. Bruce definately represents honesty,integrity and professionalism at it's best. Call Discount Foundation Repair Specialist for a wonderful and secure experience. We say THANK YOU BRUCE & TEAM whom made this possible at a moments notice! We pray favor over Discount Foundation Repair Specialist and it's team for many years to come. That YAHUWAH [Creator,Savior,KING OF KINGS ] Father of Abraham,Issac and Jacob protect you and favor you now and forever ! HalleluYAH 🙂 Thank You The Ordonez Family ` Irving,Tx 6.24.19
Brian is very professional and knowledge in his diagnosis of Irving soil movements. Very prompt and reliable and would use them again
Did a great job and addressed questions and issues quickly and professionally.
Hector Andrade
2018-10-03
I had a scheduled appointment for sat at noon but no one showed up
They did an awesome job! Very professional and Bruce is very knowledgeable! At the end of their work they replaced all my dead plants.